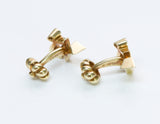 Cartier Gold Capricorn Zodiac Cufflinks
Cartier Capricorn Zodiac Cufflinks.
Vintage 18K yellow gold Cartier cufflinks. Capricorn Zodiac sign on the front and fixed backs with flower design. These vintage cufflinks have not been polished/cleaned and show their original patina. Approximate Measurements: Length: 0.8" Front Width: 0.7" Weight: 16.2 Grams.
Email us or give us a call: (929) 316-2746. For our shipping and refund policy please see our terms & conditions page.